Expert Help for Flood Damaged Sacramento Businesses
3/17/2022 (Permalink)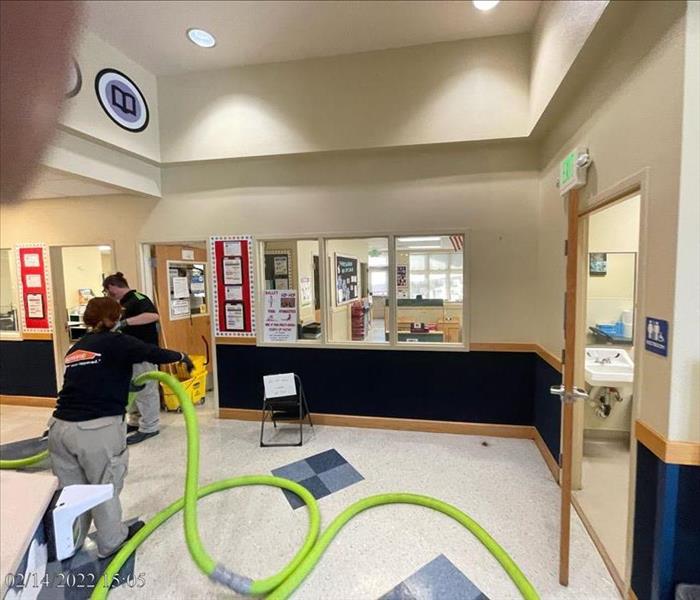 Flooding after a pipe break requires powerful water removal to help prevent mold from starting. Call our SERVPRO team to assess and remediate.
Flooding is not a pleasant event for any property owner in Sacramento. The struggles felt by our local businesses when overland or internal flooding occurs in commercial spaces extend to the city at large as well. We all depend on our schools, restaurants, retail stores, workplaces, and entertainment venues to be open and ready to meet our needs. When a flood disaster strikes a commercial customer our efforts help both the business and our community.
A water supply line break in a commercial space can cause significant Flood damage in Sacramento. If the event occurs outside of working hours, the quantity of water flowing into a facility can be vast and incredibly destructive. As soon as the staff at the business first notes the flooding, fast action from water removal professionals is crucial to limit the damage done.
SERVPRO crews are expert at managing large flood water removal scenarios. We arrive in vehicles stocked with pumps and truck-mounted high-efficiency extractors powered by onboard generators if the electricity at the site is temporarily unavailable. Our crews jump on the tasks at hand as soon as a preliminary assessment completes, and the water is shut off, confident in our ability to begin and complete needed water evacuation.
After the majority of the standing water exits, SERVPRO crew members use a range of devices to detect and measure moisture levels to inform us as we structure drying goals and configurations. Infrared scanners help detect water trapped in recesses and cavities behind walls, under floors and ceilings, and any other place moisture collects in a commercial physical plant.
All water must be suctioned out or otherwise released or the risk of mold growth spirals. The SERVPRO team uses a host of strategies including flood cuts, drilled holes, and top-down wand extraction to rid the spaces of all liquid water. Then we employ air movers, heaters, and dehumidifiers to reduce the moisture content of porous building materials by moving water out as a vapor to be captured and removed via condensation or absorption.
Water that remains unabated for 24 to 48 hours dramatically increases the probability that mold spores generate into colonies and multiply. Any other microorganisms present in a sewage backup or overland flooding during the event also have a window of opportunity to grow and spread. Because of this, SERVPRO concludes flood damage remediation with a thorough cleaning and treatment with EPA registered disinfectants to inhibit microbial infestation.
SERVPRO of North Sacramento works fast and hard to remediate commercial flood damage in the communities we serve. Contact us 24/ 7 at (916) 587-3438 to schedule an evaluation.