Our Professionals Can Save Your Sacramento Hotel After A Fire
11/4/2019 (Permalink)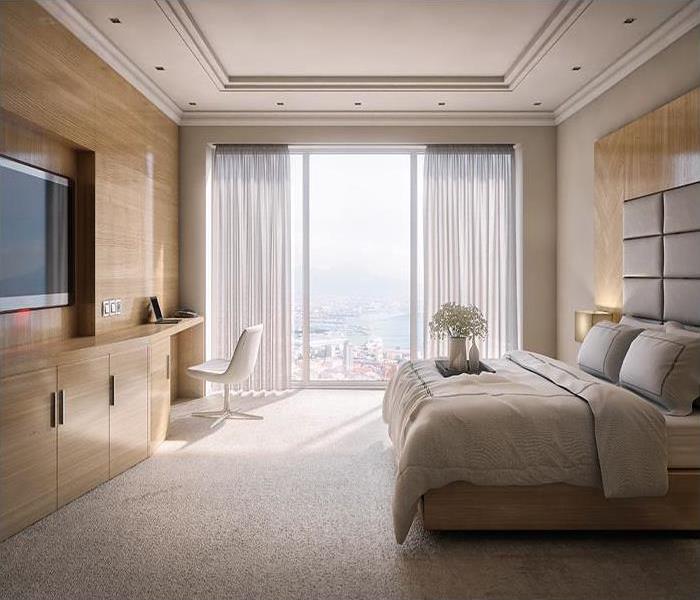 After a fire disrupts operations in your hotel, it helps to rely on professional mitigations and remediation experts.
Reliable Help When Your Sacramento Hotel Suffers Fire Damage
After a fire disrupts operations in your Sacramento lodgings and event center, it helps to rely on professional mitigations and remediation experts. The inclination of your managers and housekeeping crew might be to close for a short time to get things back to normal. Unfortunately, disappointed customers have other options, and the failure of your accommodations to honor reservations can cause the loss of business into the future. We can share strategies that can respond to the fire crisis while also permitting you to remain open for many of your operations.

Guest Negligence Can Cause Fire Risks
There is an endless number of ways human error results in fire damage in your Sacramento hotel. Your Sacramento hotel, unfortunately, can be the site for one of these accidents. If a guest falls asleep, cigarette in hand, or an iron used to smooth out an outfit is left on; a blaze can start. Smoke from a smoldering slow burn can spread to other rooms, and sprinkler systems, although necessary to quell the fire, can add to the mess by soaking everything.

Containment Strategies Can Minimize Effects
Because of the mandated and build-in safeguards, fires in your property can be knocked down quickly and limited in their direct effects. The problem with fire damage, however, is the tendency of smoke to drift far from the ignition site. The key to mitigating odor and residue migration is to have SERVPRO onsite as soon as possible. We use heavy plastic sheeting and negative pressure air scrubber technology to define the work area to the smallest space possible. Air scrubbers capture the airborne particles in HEPA filters and exhaust to the outdoors. The configuration also prevents further movement of the smoke and associated residues to other areas on your property so operations can continue.

Streamlined Approach and Comprehensive Results
SERVPRO is a full-service disaster recovery company. We can manage everything from fire-fighting water removal to air-quality remediation to efficient soot cleanup. Our production facility can clean, dry, and deodorize affected contents off-site, using a range of innovative resources and our dedicated Contents Processing Technicians (CPT). You can rely on our wide-ranging skills and hard-won certifications to clean up fire damage professionally while supporting the ongoing operation of the rest of your hotel.

Count on SERVPRO of North Sacramento to partner with you when fire damage threatens the overall operations of your business. We have research-proven strategies to share; set up your consultation by calling (916) 587-3438.
For more about Sacramento click here.