SERVPRO of North Sacramento process to any water damage restoration
9/9/2020 (Permalink)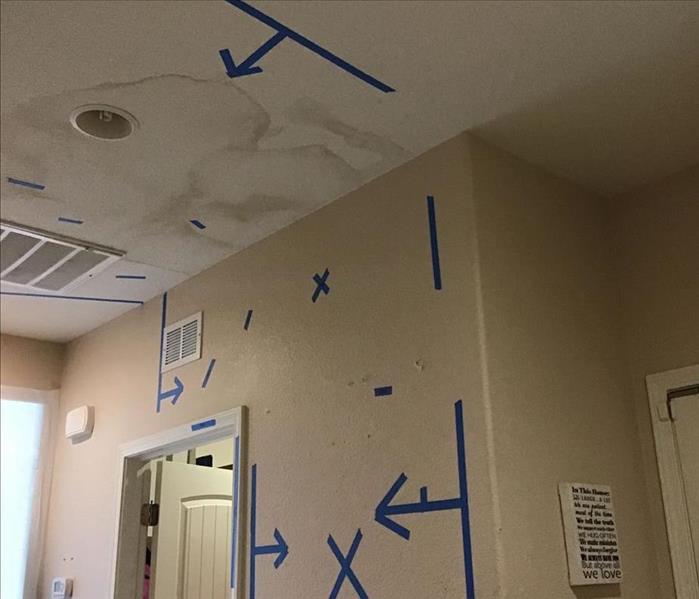 SERVPRO of North Sacramento provides 24 hour fire and water damage restoration service in Sacramento, CA
At SERVPRO of North Sacramento, we work closely and quickly with families who have suffered a fire or water loss to ensure they understand the need to take care of water as soon as possible. Water can damage the wood in your building and reduce structural integrity. In addition, water damage can become a danger for your home and a health risk to your family. It can quickly become a breeding ground for mold. When water damage occurs in your home, it makes it damp and increases the moisture levels. Moisture is the main cause of mold growth. In order for mold to grow, it needs water; without water, mold cannot grow. Within an hour up to a day after your home has been exposed to water, it will begin to cause damage. This is when drywall begins to bulge and break; the doors, windows, and wood flooring may swell and warp; furniture begins to swell and crack, and metal surfaces begin to tarnish. Few people associate mold growth with house fires, however, the fire is extinguished with water which immediately causes excess moisture. When you have suffered a fire or water loss, you need to address water issues as quickly as possible with water remediation professionals like SERVPRO of North Sacramento.
SERVPRO of North Sacramento provides top quality service for water losses as they pose specific issues that may cause further damage to your property. It is important for our customers to understand there is a "process" for handling water remediation losses. Understanding the process helps our customers minimize stress and gives them confidence as to why work is done in a certain format. We have developed a process which is closely adhered to on every water loss using best practices as a systematic way of providing consistently high customer service and a quality product. Each phase represents a different portion of the project with individual steps to ensure the integrity of the project is completed to our customer's satisfaction.
Our project managers are professionally trained and certified to ensure the successful completion of each
water damage restoration project. A single source of project management and decision making ensures that the mutually agreed upon scope of work is fulfilled, the plan is successfully executed, and schedule adherence is maintained. This process assists our water mitigation team by providing clear and consistent directives and/or expectations of the project. Our project manager is the primary contact for the customer, ensuring effective and consistent customer communication for updates and other issues or concerns that require solutions.
Need Emergency Service? Call Us 24/7 – SERVPRO of North Sacramento: 916-587-3438