What is Water Damage Mitigation?
9/3/2020 (Permalink)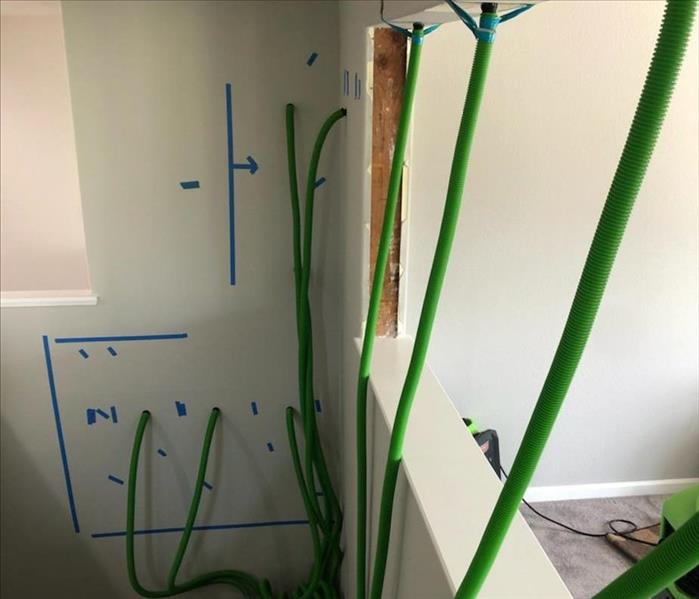 SERVPRO of North Sacramento provides 24 hour fire and water damage restoration service in Sacramento, CA
First, it is important to know that most homeowners' insurance policies may help cover water damage if the cause is sudden and accidental. For example, if a washing machine supply hose suddenly breaks or a pipe bursts and floods your home, your homeowners insurance may help cover the damage. However, it does not cover damage resulting from poor maintenance. At SERVPRO of North Sacramento, we receive daily calls for fire and water cleanup, mitigation, and restoration. This is the reason we are Faster to Any Size Disaster and have earned a 5 Star rating in our Sacramento community. Every water damage situation is different and requires a unique solution, but the general process stays the same. SERVPRO of North Sacramento professionals respond immediately to water losses and use state-of-the-art equipment and techniques to remove the water quickly. The urgency is critical as any home or business can quickly become overrun with mold with the introduction of a water source, like a roof or plumbing leak. Mold can spread throughout a property in as little as 24-48 hours and can produce allergens and irritants that have the potential to cause other health issues. In cases when fires are extinguished, the water used to extinguish it causes damage to your property and personal belongings which can be extensive based upon the size of the fire. Water damage mitigation includes the complete process of water cleanup from beginning to end (removal of water, drying items and structures, and moving restored items back). The water damage remediation process is designed to treat or reverse the damage caused by unwanted water accumulation. In other words, it is the process of cleaning, drying, sanitizing, and restoring materials where the water damage has occurred to prevent further damage to your property and personal belongings. Water damage mitigation services aren't designed to repair or replace damaged property, but to ensure the disaster doesn't lead to further consequences. At SERVPRO of North Sacramento, the water mitigation process involves using specialized equipment and techniques to minimize the amount of loss, such as:
Removing damaged furniture and materials, including drywall and flooring.
Cleaning and disinfecting salvageable materials.
Ensuring the home's structural stability.
Extracting water and drying out the home with commercial-grade equipment.
Protecting the integrity of the home by boarding up windows, applying tarps, and taking other necessary precautions.
It is important to know that SERVPRO of North Sacramento technicians are IICRC certified. The IICRC stands for the Institute of Inspection, Cleaning, and RestorationCertification. It is a certification program and set of standards to facilitate the inspection, cleaning, and restoration industries. The idea is to protect not only the interests of consumers but also professionals in these industries. This certification allows our clients to understand that the technicians are experts in water damage remediation which is vital to ensure a job is done correctly the first time.
At SERVPRO of North Sacramento, we provide:
Faster to Any Size Disaster
A Trusted Leader in the water remediation industry through Sacramento and surrounding counties
Preferred Vendor for Many National and Local Insurance Companies