Professional Tips for Reducing Damage From Water Leaks in Sacramento
12/10/2019 (Permalink)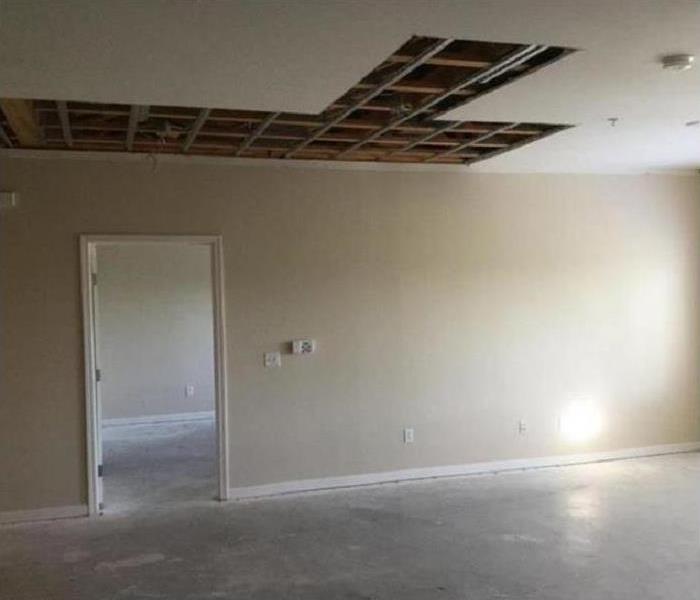 A leak in the office above caused water damage below. We removed the damaged materials to complete drying and restore the building..
Quick Action Reduces Damage from Water Leaks in Sacramento
Water leaks in apartment buildings present unique issues. There is always a concern about damage to the contents of the unit, as well as the unit below. There is also worry about the impact on other apartments below the affected unit as well. Sometimes the first sign of a leak is water dripping from the ceiling of the apartment below where the original leak occurred.
SERVPRO can help with water removal from a leak in Sacramento in your apartment as well as other apartments in the building. The most crucial step is always arranging to stop the leak. Contain the spread of water within your apartment and units below. Turn off the main water supply or shut off the offending water faucet when there is an overflow.
Apartment buildings are a significant concern for many owners when considering water leaks. A leaking pipe can quickly cause damage to the apartment where the leak is as well as the one below. A slow leak may occur for some time before being noticed. Water may soak the area immediately below the leak, potentially causing structural damage as well as providing an excellent location for the growth of mold.
Use towels to soak up liquid water as much as possible. If a great deal of water has leaked, you may also want to contact the landlord or warn your neighbor below. The owner of the building or the superintendent may need to be involved, especially if SERVPRO is needed on-site to remove water and moisture.
SERVPRO can bring water removal equipment on site as well as air movers and dehumidifiers. We also utilize moisture sensors to locate pockets of moisture. If these areas are not dried, the moisture could be the source of mold growth later, which can cause odors and health issues for some people.
Call SERVPRO of North Sacramento at (916) 587-3438 for 24/7 service. We proudly serve South Natomas, Sleep Train Arena, American River Parkway, and the surrounding areas. We're Faster To Any Size Disaster.
More about Sacramento.