Why Deodorizing is Part of the Water Cleanup Process for Your Home in Sacramento
6/13/2022 (Permalink)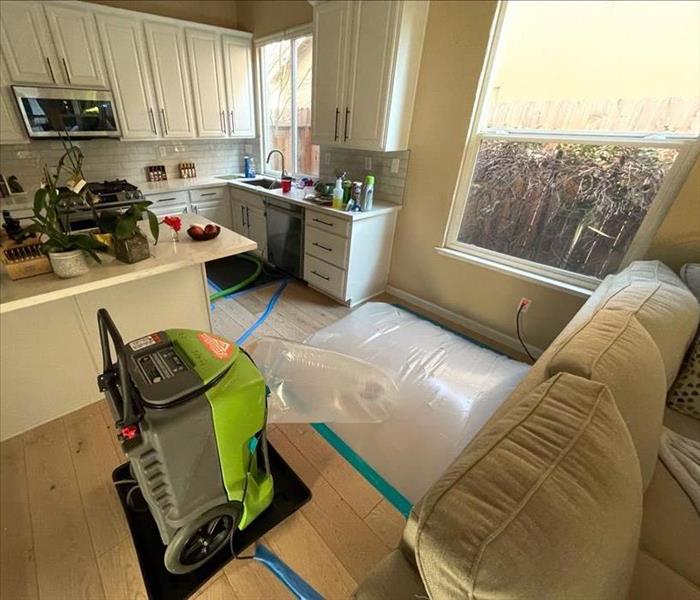 After a water damage event, your best bet is for quick water removal efforts to help prevent any secondary damages. Contact SERVPRO right away.
Seeing your home filled with water can be an overwhelming sight, particularly if you are unaware of what steps to take to take your home to its preloss condition. As with most emergency situations, the key to the best water cleanup process is to start it as soon as possible by calling on those who have the experience and technology to accomplish it from start to finish.

When your home is subject to water cleanup in Sacramento, our SERVPRO team is readily available to come to your home upon receiving your call. Keeping safety at the forefront, we will make sure that the source of water is contained and controlled and quickly assess the damage. Based on what we observe we will make recommendations and guide you through your best options to making the water cleanup process as seamless as possible. It is our goal to make your home look like nothing ever happened.

Our Green Fleet arrives with pumps for deeper waters as well as other equipment to aid in the extraction of water and drying of the structure and contents of your home. Our SERVPRO team has been trained on the use and benefits of different methods for achieving the most thorough water cleanup process possible and we will apply our expertise to your home upon arrival. Tools such as infrared sensors allow us to detect any remaining areas of concern including within walls and under flooring materials and help us achieve full results.

Our work does not stop once the property is dry. An important part of the water cleanup process is getting odors out of your home and at SERVPRO we are also prepared to help with that. When we deodorize your home we may use power pumps or hand sprayers to disinfect upholstery and other surfaces. We may also use foggers for hard to reach areas, all while protecting the health and safety of our team and your family.

What is most important to know is that our team at SERVPRO of North Sacramento is your ally when a water disaster affects your home and cleanup services are in order. Call us at (916) 587-3438 as soon as you need us and let us use our years of experience to your benefit.